The New Brand
The dynamic Glatfelter logo reflects the company's progressive stance in the industry and with regard to innovative methodologies.

Glatfelter's theme line of Beyond Paper signifies that the company and its employees will constantly develop new and innovative ways to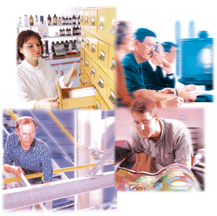 support customers; that they will strive to move the industry forward through ongoing new product development and other innovations; and that they will do all of this using new and improved business models designed to help customers succeed.

Glatfelter Products
Glatfelter papers touch people's lives every day in many ways. Glatfelter papers are used to make many products including tea bags, coffee filters, books, postage stamps, playing cards, laminate flooring, food and beverage labels, signs and even temporary highway lane markers.

From best-selling novels to trade journals or textbooks, Glatfelter is the publishing industry's paper of choice. Recent bestsellers printed on Glatfelter paper include John Adams by David McCullough, Code to Zero by Ken Follett, The Bear and the Dragon by Tom Clancy, The Greatest Generation by Tom Brokaw, and Dreamcatcher, A Novel by Stephen King.

One ton of Glatfelter paper makes about 15 million stamps. Annually, more than 25 billion stamps are produced in the United States using Glatfelter paper.

Playing cards are made using two pieces of paper laminated together. One ton of Glatfelter paper makes about 12,000 decks of playing cards.

Each year, Glatfelter makes enough overlay paper (used in laminate flooring and counter tops) to completely cover Pennsylvania nearly two and a half times. Every year, Glatfelter makes enough tea bag paper to circle the Earth 11 times. Yearly production is enough to brew 58 billion cups of tea.

Company Highlights
Glatfelter started in 1864 as a manufacturer of newsprint.

The Spring Grove facility was the first pulp and paper mill in the United States to receive ISO 14001 certification for its environmental management system.

Glatfelter manages roughly 88,500 acres of forestland and was one of the first paper companies to establish a forest management program. To grow a pound of wood, a tree uses 1.47 pounds of carbon dioxide and gives off 1.07 pounds of oxygen.

Schoeller & Hoesch is equipped with the largest and most advanced inclined wire machine in the world, supplying tea bag paper to the catering industry as well as for the private home.