Beyond Paper™.
We are about more than just products. And now we are going even further.

The paper industry is evolving more quickly than at any time in history. And with each passing day, our business environment becomes more and more competitive. Today, we are the North American leader in the manufacture of publishing papers, and one of the world leaders in tea bag papers. But that is today. Continuing to lead and excel in our other areas of expertise requires much more than just supplying high-quality paper. Every facet of our business must rise to meet our customers' challenges - to contribute to their success in unprecedented ways.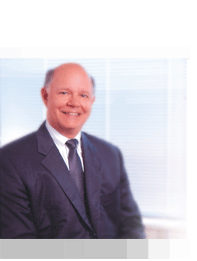 George H. Glatfelter II
Chairman and Chief Executive Officer
Going beyond paper is our promise to each and every one of our customers. It is a promise based on over a century of experience and technical expertise and supported by new "best in class" processes.
Going beyond paper means that our people - already committed to excellence - will continually aspire to exceed expectations. Beyond Paper means we will constantly be developing new and innovative ways to support our customers. We will strive to move the industry forward through ongoing new product development and other innovations. And we will do all this using new and improved business models designed to help our customers succeed.
This is a new era at Glatfelter. It is evidenced by our new global image. And it's underscored by our commitment to the specialty paper and engineered products markets.
The People.
Glatfelter People go above and beyond.

Glatfelter People are paper specialists, experienced at their craft who possess the technical expertise to tackle the most complex customer challenges. And according to customer satisfaction research conducted last year, our customers concur. The fact is, around the globe, Glatfelter People are called upon to use their experience and expertise to develop, produce, and support specialized, innovative, value-adding products and services - and to provide effective solutions, often when our competitors cannot.
Supporting our customers through a team approach is paramount at Glatfelter. Each customer is partnered with a dedicated Glatfelter technical sales representative and support person. As a team, they do whatever it takes to meet customer needs. Quite often that means going beyond traditional approaches, like working on-site at our customer's facility to troubleshoot, problem solve, and expedite. Glatfelter People do whatever it takes to ensure each and every customer receives a high quality product with consistency.
In addition to our unrivaled personal attention, we lead the industry in supporting customers with innovation as well. MyGlatfelter.com (SM), the first e-commerce web site of its kind in the industry, provides customers with a wealth of specific, "real-time" information regarding order status, shipments, inventories, and much more. The site provides customers with access to detailed information - 24 hours a day, seven days a week, 365 days a year.
Glatfelter People are focused on going beyond paper to provide value well beyond expectations.

The Paper.
Quality. Consistency. Innovation. Delivered to the four corners of the world.

The Glatfelter name has been synonymous with high quality paper products for well over a century. It is a tradition supported by proud, quality-conscious Glatfelter People known for developing innovative solutions to meet our customers' requests and needs.
We are committed to the specialty paper and engineered product markets we serve in every way. And, with facilities in North America, Europe and Asia, we have the global infrastructure to support our customers worldwide.
Over the years, our product line has expanded from high quality book publishing and converting papers to an extensive array of engineered paper products found in flooring, tea bags, postage stamps, playing cards, greeting cards, surgical gowns, signage, apparel tags, and inkjet papers to name a few. Our people devise unexpected, creative solutions to most any paper challenge. And it's the process and product innovations that result from Glatfelter People constantly challenging the norm.
Combine all this with a support program that transcends the traditional customer/supplier relationship, and suddenly our commitment goes far beyond the products we produce - it goes Beyond Paper.

The Products.
Delivering Solutions to the markets we serve.

At Glatfelter, we are not concerned with being all things to all people - just with delivering the best solutions to the customers and markets we serve.
Engineered Products. Powerful solutions for custom applications are what Glatfelter Engineered Products are all about. From meeting the demanding specifications for U.S. postal applications to developing a highly engineered line of digital imaging papers - many of the products we develop are the result of a cooperative effort between Glatfelter People and our customers. The brightest scientific, manufacturing, and commercial minds are brought together to arrive at value-adding solutions for many specialized applications. Our products include digital imaging papers, specialty release papers, industrial specialties such as playing cards and greeting card papers, pressure sensitive papers, meltblown and metallized products.
Long-fiber & Overlay Papers. Our experience and expertise in these areas enable us to meet the diverse needs of a wide variety of industries. We are one of the leaders in tea bag manufacturing. Our innovations have led to the introduction of specialized paper for filtering applications, car batteries, adhesive tapes, food casing papers, laminated counter tops and flooring.
Printing & Converting Papers. For well over a century, our book publishing papers have been the print medium of choice for the world's largest publishers. Our experience, technical know-how and customer commitment have made us the market leader in the industry and have enabled us to deliver the quality and consistency their important work demands.
From subtle shades of sand, to brilliant colors of a sunset, our converting customers rely on us to provide quality envelope papers using just the right color and finishing process. Our converting papers are known for their brightness, opacity, strength and endurance. All our products are designed to deliver superior performance.
Technical expertise, experience, and innovation enable us to provide high quality products with consistency to a diverse group of customers. But most important, Glatfelter People provide value-adding solutions that not only work, they work exceptionally well.
Beyond Paper. A vision. A promise.

At Glatfelter, we're committed to providing high-quality, consistent products - just as we have for well over a century. We're committed to becoming the global supplier or choice in specialty papers and engineered products.

We're a company with a clear vision and a firm promise - to constantly support our customers in new and innovative ways…to develop industry-leading new products and innovations…to employ new and improved business models that focus on the future. All of this is supported by the technical expertise, experience, and dedication of Glatfelter People who constantly strive to do more than the expected. At Glatfelter, we go Beyond Paper!


Commitment to serving the community and protecting the environment.
At Glatfelter, we embrace our social responsibility as a corporate citizen. Through donations to corporate philanthropies, volunteer work, and in-kind products and services, we take pride in the betterment of the communities in which we operate and the world in which we live.
We realize our business impacts the environment. Through continuous environmental improvements, we strive to minimize our effect on the environment and maximize the safety for our employees and neighbors. Our Spring Grove, Pennsylvania facility was the first pulp and paper mill in the United States to receive ISO 14001 certification for its environmental management system. Plans call for all facilities worldwide to be ISO 14001 certified by 2004.
Our commitment to social and environmental responsibility is unwavering. We believe in doing our part to care for the earth, and to help ensure a cleaner, safer future for all who share our planet.

Our Core Values…who we are
These are values that are intrinsic to our organization. They make us who we are. They guide us in all that we do.
Integrity
Financial Discipline
Respect for Co-workers
Customer Focus
Environmental Responsibility
Social Responsibility